Weekly Playground Update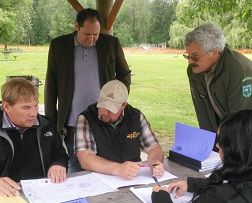 Playground update! June 1 – Ground breaking day!
The state awarded the site prep contract to W.S. Contractors out of Buckley. They expect fill dirt, rocks, gravel etc., donated by Lakeside Industries, to begin arriving June 1.
It will take 60 days for the site work to be completed. This will include foundation work for the larger playground pieces, bringing water lines under the road, etc.
In August, the playground equipment will begin construction. The pieces are already at the park, stored behind a fence near the playground site.
Watch for more information on how you can volunteer to help with construction later this summer.
Photo:
Landscape architect Bob Droll, general manager Jared Stevenson from W.S. Contractors, state park manger Rich Benson and (standing) David Wescott discuss the playground at a pre-construction meeting last week.