Nature Programs, September Update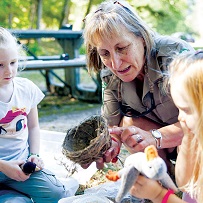 Summer Nature Programs at Lake Sammamish State Park Wanda Peters, Lake Sammamish State Park Naturalist, has created an exciting line-up of special nature programs at Lake Sammamish State Park for people of all ages and abilities this summer.
All programs are free! Remember your Discover Pass!
Pre-School programs on Thursdays at 10 a.m. continue through Sept. 1.
Weekend programs for children and families continue through Labor Day weekend.
Check the website for the schedule.